What it do, howdy from SA-town, been bizzy, lazy, grind'n, sleep'n, lax'n count'n days blazy blah and lollygag'n...for the most part tryna stay active hang'n out with the fam, do'n the art thing and hang'n out with my girl. All fun and what not. Also been watch'n the world cup. r'ght now, my bet is on FRANCE! There game is nice I must say. I'll tryna to run ya up on the skinny, kinda tired so work with me:
Skinny:
-I sold a painting not to long ago to this art collector out in Cali, this dude's art collection is sick! below is his crib and some paintings he owns (SI look at the dam phil hale piece...shht, I know) Mighty cool guy too.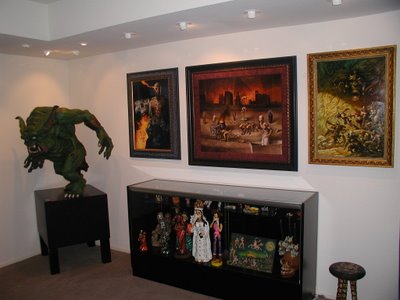 -I got two black and white drawings gonna be published in this book : http://blackflood.com/
-I finished a munny for the second show at Uberbot, the show is this Sat. It looks better in person but yeah, I slack'd on the time so I didn't hook it up as much as I wanted too but its cool for now I guess. "5 angels of oki"....I used my sis' cam so my cam game on this is low
-I'm working on a series of posters with the theme beauty and the beast in mind, still in the outline phase but here's the line drawings I do have finished:
-Here's a drawing of Yara I did while she was playing video games a couple of days back
-sketchbook spread and under that is a sketch work for this project Cabege and I are working on: "CURLIES"
I should be posting more junk as I progress I would post more but I'm gonna nap haha
lazy ass I know, but yeah I'll get at ya'll, hope all is well
-Ben I'll get you that killarmy mixtape cd !
get at ya'll soon, be esay
-bags